Best Rev. 10 Catalog Order Information
Comments and Reviews on the Best Rev. 10 All Atari Catalog
Best Rev. 10 All Atari Catalog Questions and Answers
Best Rev. 10 All Atari Catalog Specifications:
220+ pages, ˝ inch thick, 1.4 pounds All Atari Catalog
Covers just about Every Atari Consumer product made from the Original Atari Pong to the last Atari 64 Bit Jaguar System
A four fold increase in pages over our last Rev. 9 All Atari Catalog
Over 330 Pictures of Atari Products, Atari Accessories and Atari Replacement parts
Pictures of Atari Prototype Products Never released, Engineering Samples and many One-Of-A-Kind (the only known Atari samples to still exist in the World) and hand made proposed Atari products never seen by the Public.
Over 5000+ Atari Products, Atari Parts and Atari Accessories
"The Best" Series of Atari Products and Replacement Atari Parts
Over 30+ Best Interesting and Informative Atari Information Tips
Over 55+ Atari product Tech Repair Tips and Tricks
A New Best Catalog Index for easy Atari item searches
An Atari Product and Memorabilia Photo Museum
Complete Atari Product Connector (Power jacks, Video, Printer, Joystick, Mouse, Modem and much more) I/O Drawings and Specifications on just about every Atari Consumer Product made. One of the most complete single source Atari connector listings in the World
The most Complete Atari Custom Chip and Replacement I.C. listing in the World, by Atari Part number
The Best Rev. 10 All Atari Catalog took over 3 years to produce
Each Best Rev. 10 All Atari Catalog comes with a short Best Electronics News article, "The Story behind the Best Rev. 10 Catalog"!
---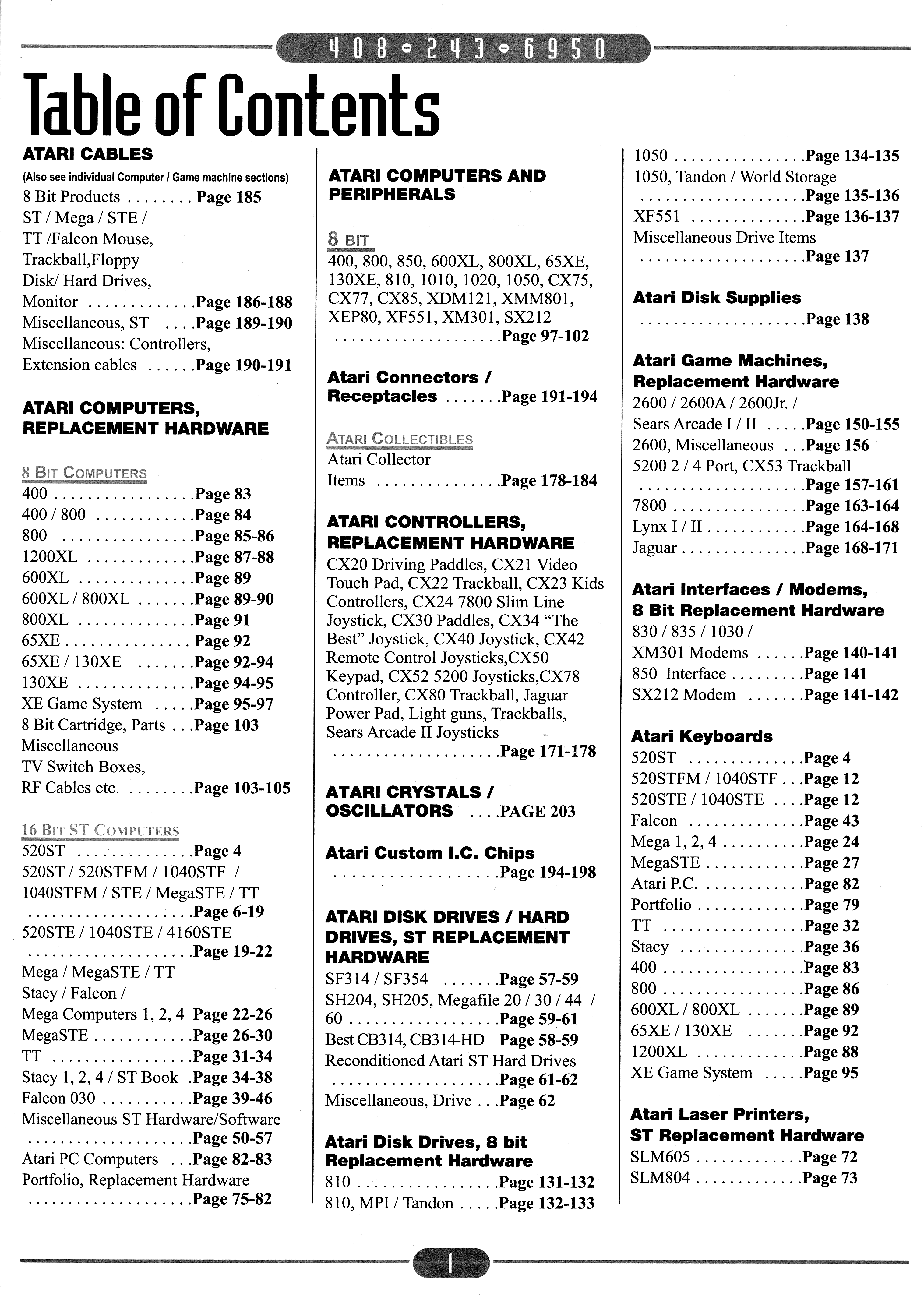 Sample of Best Rev. 10 All Atari Catalog index page 1 of 3
Best All Atari Catalog sample page 140 of 228
---
Best Rev. 10 All Atari Catalog Questions and Answers

Q. Why should I buy the Best Rev. 10 All Atari catalog with all of the Atari Information on the Internet?

A. The Best Rev. 10 all Atari Catalog / Reference Manual / Bible is one of the most Comprehensive Printed Single Sources of Instant Atari Information in the World. All of the Atari information on the Internet does you no good if you are at a Swap meet / Yard sale (and must make an Instant decision to buy or pass on an Atari item you found) and you need to know if you can get Atari replacement parts for an Atari Treasure you found that is missing or has damaged one or two key items / parts. Many eBay Atari surfers wished they had a Best Rev. 10 catalog before they found out about it, when they find the listed as "Rare Atari item, used" they just bought for a lot of money, was just a Stock Atari product you can buy New and Cheaper in the Best catalog. On the other hand, if it is listed as an "Atari Rare item" on eBay and you do not see it in the Best catalog, buy it fast! The Best Rev. 10 Catalog is produced by an Atari Company that has been in the Atari Business for over 24+ years and has first hand Knowledge, Technical Information and Experience on all Atari Consumer Products ever made and has added this collective Knowledge and Information to the Best Catalog. The average Atari information you find on the Internet is only based on 2 to 5 to 8 years of personal Knowledge or Experience with Atari products.

Q. I am looking for the joystick pin outs for the Atari 2600 console?

A. The back section Best Rev. 10 Catalog contains one of the most comprehensive listings of Atari product I/O Ports and Atari Power supply connectors in World. Just about every Atari Consumer product they made is covered in the reference section. 10 pages with over 63 different Atari connector pictures with Atari pin out specifications. The only other way of getting such detailed Atari pin out information would to buy the Atari Field Service Manual for each of the Atari products. Some of the Best Atari connector information is not normally available at all, because Atari did not make Service Manuals for certain Atari products they made!

Q. Should I buy the Best Catalog if I only own one Atari Product?

A. Most Atari Collectors and People getting back into Atari Collecting, Old Atari users with multiple Atari Systems they are now just digging out again, Atari people who repair Atari products, Atari eBay Surfers and Sellers, Fleamarket / Swapmeet searchers and Atari Dealers World Wide use the Best Catalog as their Reference Manual for Repair parts, General Atari product Information and as a Bench Mark Atari Reference Guide. The Best All Atari Catalog is usually not for the Average one Atari product owner.

Q. I have seen a lot of Atari products on eBay. Some I do not even remember Atari ever releasing when I was growing up. My friends says some of the maybe fake Atari items.

A. Yes, there are a lot of Questionable, fake, made up and Pirated Atari products and Atari Collector items on eBay. Ebay does very little to screen these items, basically it is buyer be aware! Even if you complain, they do next to nothing about these questionable Atari listed items. A good reference as to a genuine Atari consumer produced product is the Best Rev. 10 Catalog and the Memorabilia Museum section in the back of the Best Rev. 10 Catalog. Of course The Best Catalog does not cover all the hundreds of different Atari promotional items made by other Companies for Atari, but is a very good reference source.

Q. I have seen may used Atari items listed on Ebay as very "Rare". But my friends say, they see the same New Atari product in your Best Rev. 10 Catalog for less money! Is this true?

A. Yes, the "Rare" description is one of the most over used listing words on Ebay. Yes, we have seen used / questionable / "As is" / "Sold As is" Atari items sell on Ebay for more money then the New Atari products we have in stock, which come with a normal Atari Warranty! People just get caught in the Ebay bidding process.

Q. Who is your oldest Atari customer who has been doing business with Best?

A. Our Atari accounting records shows our three oldest active Best Customers still placing current Atari orders with us, are Customer numbers BT00075, BT00179 and BT00295. We estimate they have been Best Atari customers for over 30+ years now.

Q. Why do you charge for the Best Rev. 10 Catalog, isn't it just another standard parts type of catalog?

A. The Best Catalog is more like a Book, Reference Manual, Industry Standard or Atari Collectors Guide. After three years work on the Best Rev. 10 Catalog, it is only being sold at "Cost To Produce" and Shipping cost only! The Cost to Produce price does not include over 1251+ Man hours that went into Writing it, Photographing it, Researching it, Verifying the extensive Atari information it contains. It was produced for People who Grew up with Atari Products and Love them!

Q. Somebody is offer me some Atari parts or Atari items. I have the Atari parts for these items but do not know what they are.

A. The Best Catalog lists all of it's Atari parts, products and items by the original Atari part number. Some Atari items in the Best Catalog are listed by the Best Series of part numbers

(Atari did not have a current part number for them when the Best Catalog was produced). So if you know what Atari product group of Atari products (2600, 8 bit, Atari ST and so on) you can look up that part number and see the description. If it an Atari I.C., The Best Catalog has the most complete Atari I.C. Listing by Atari part number in the world.

Q. Why do you charge California Sales Tax to California Residences?

A. We have checked with the California State Board of Equalization and they say, we have to charge CA Sales tax on the Sale of the Best Catalog sent to a California address.

Q. Is there any Customs or Duty on the Best Atari Catalog shipped to an International Location in the world?

A. Most International Locations / Countries we ship the Best Catalog to in the World, DO NOT Charge Custom Duties on "Printer Matter" only.

Q. How do you Ship the Best Rev. 10 Atari Catalog?

A. For US residents, it is shipped U.S. Priority Mail (typical 2 - 3 day service). For International Residents, it is shipped U.S. Global Priority Mail (typical 3 to 5 day service) or U.S. International Air Mail (7 to 14 day typical service) depending on your country and time of the year.

Q. Why do you Not accept credit Card Sales on Domestic / US sales of the Best Rev. 10 All Atari Catalog?

A. Since we are trying to be "Nice Guys" and only sell the Best Rev. 10 all Atari Catalog at Cost only, On each Credit Card sale, the Credit Card processors change us a percentage of each sale. Any Credit Card Sales under U$D 20 that percentage charge jumps up to even higher Rate. When you sell hundreds, if not thousands of the Best Catalogs at Cost every year, any Credit Card service charge just adds up to a pure loss per catalog. Now if we were selling the Best Rev. 10 Catalog / Reference Manual / Bible for it's True Value / Profit to Atari users and owners, then Credit card Sales would be another matter. We do accept Credit Card Sales on the other 5,000+ Atari items in our Best Rev. 10 Catalog, as long as they meet our Min. Credit Card sale of U$D 20 plus shipping. We do accept US Personal Checks for the Best Catalog but since we no longer make regular bank deposits anymore, it can take up to 1 to 2 months to clear our Atari accounting department. The best payment method is a US Postal Money order, the Best Catalog is usually shipped the same or next working day here.

Q. Do you "Hold" US Personal checks until they clear like other Atari Dealers on the Internet do?

A. No, we do not hold Personal US checks or Money Orders for any Atari Mail orders we receive. All orders for Best Catalogs or Mail Orders are usually shipped within one or two working days here, after receiving your payment.

Q. How long does it take to ship the Best catalog?

A. Once we receive payment, The Best Catalog is usually shipped the same or next working day.

Q. Once I receive your Best Rev. 10 All Atari Catalog Is there any charge for the Best Rev. 10 Catalog Addendum's?

A. There is no charge for the Best Rev. 10 Catalog Addendum's. You can down load and print out the current Best Catalog Addendum from the Best Web site. Each Atari order we ship from Best includes a free current Catalog Addendum (currently 12 pages) with price changes, Sold Out items, New Atari products and New Atari parts.

Q. How do I find out what is the International Shipping charge for a Best Rev. 10 Atari Catalog to my International Location?

A. It is best to E-Mail us at:

bestelec@bestelec.digitalspacemail8.net

your location in the World (country) with Postal Code for the exact shipping charge to your International location.

Q. OK I want to order the Best Rev. 10 All Atari Catalog. I am in the US and not in the State of California. What is the procedure?

A. Just send us a US Postal Money order (Mail to address is at the end of this Page) for the amount listed in the "Best Rev. 10 Catalog order Information" section below.
---
Comments and Reviews on the Best Rev. 10 All Atari Catalog
Boris S. of NV says:
On his second recent Atari order to Best. Boris picked up the Best Rev. 10 220+ page all Atari catalog. "Just wanted to say thank you for servicing my recent order! The Rev 10 catalog is outstanding! I think it's more like an Atari field guide than a catalog. I love the historical background and pictures of prototype hardware! The 1040ST+ was a new one to me. I will reach out to you in a couple weeks for another order request, if that's ok with you. :)"
Garry T. of OH says:
"The Best catalog is a treasure-trove of tips and hints for repairing/trouble shooting your Atari. The tip about how to fix your ST keyboard if the mouse wasn't working correctly was terrific. I was able to fix the keyboard very easily without having to replace the keyboard or getting a new mouse. The Best catalog should be every Atari owners' best friend! Super resource. Thanks again for everything"
Follow up Comment: "Feel free to post any of my comments. Very appreciative of what you and Best represent to the Atari community!"
Guy T. of Australia says:
"wow, the catalog is really quite impressive! I didn't realize half those things existed... :)"
Peter H. of New Zealand says:
"I have to say I am most impressed with the catalog. Nirvana for anyone remotely interested in the older Atari computers etc and it'll sit forever on my "Do NOT remove EVER" shelf … well … at least until Rev. 11 comes out J"
---
Noel M. of Canada says:
"I seriously can not believe the amount of data in the Best Catalog. It's like opening up an encyclopedia on extinct animals and seeing a guaranteed fresh in 5 minutes or its free restaurant steak menu -for each featured extinct animal -in both 8 and 16 ounce servings embedded within the knowledgebase! Or like finding a whole new color never seen or experienced before. :) Great job"
---
Curt Vendel of the Atari History Site (NY) says:
"The Best Electronics catalog is an amazing creation. As the reader peruses their way through its pages, they are exposed to an incredible amount of product information, technical tips, historical references and a constant page after page banquet of images of production and prototype products. The Best Electronics catalog goes even farther then just tips and eye candy.... the catalog also doubles as a technical reference guide with detailed visual layouts of every port, expansion slot, cartridge slot, interface and power requirement for nearly every product Atari ever made. The Rev 10 catalog scores a solid 10 in my book!"
---
Shiuming Lai (UK) of MyAtari.net on line Atari Magazines Says:
Pros: A monumental achievement and handy reference, clean design, and sharp print quality, nothing like it.
Cons: Extreme temptation
Score:
*****
MyAtari magazine - Review #1, November 2001
---
Patrice of France says:

"The Revision 10 Best Electronics Catalog is one of my favorite books. The worldwide stock of Atari computers and Game machines is shrinking and it is getting harder to find any replacement Atari parts to preserve our fabulous Atari products, but we can find just about anything we need to repair our old Atari's, thanks to Best!

I really appreciate the pictures of Atari prototype products, Atari memorabilia items, all the Atari product connectors pin out's and Atari technical tips.

When I visited Best in San Jose in 1997, they showed me the prototype of the Best Rev. 10 Catalog, I discovered a lot of Atari items I had never ever seen before and I was trying to memorize all the items, but it was impossible! It was a long wait for the final edition, but when it was worth the wait. It seems like I read the Best Rev. 10 Catalog just about everyday! Congratulations Best, it's a great job"!
---
George R. of California says:
"An absolutely indispensable publication, this is the Atari Collector's Bible! If you ever consider repairing your Atari items, or just want to freshen up that old Sunnyvale product this catalog is without peer. I have nearly worn my copy down to the binding, and each time I open it up I find myself filling out another order form! There are parts in this book that you simply cannot find anywhere else, and a veritable Library of Congress of Atari-related technical facts and tips. Add to that the volumes of information Bradley Koda has stored in his head, you just cannot go wrong. Definitely a Best Seller!"
---
Randy F. of Virginia says:
"I originally came across the Best Electronics web site looking for a place to buy games for my Jaguar, little did I know what treasure trove of Atari products I had stumbled across! On top of many Jaguar games to choose from I also found unique items such as the Atari Jaguar Test Cartridge and the Atari Jaguar Power Pad adapter, which helped breathe new life into my Atari XE Game System as well! Upon receiving the Best Electronics Rev 10 catalog I was stunned to find it had everything for my Jaguar from the gaming system itself down to the red on/off power button and everything in between. Such items were available not just for my Jaguar but all other Atari systems as well. It's both rare and wonderful to see such support for Atari products in this day and age."
---
Brian S. of Connecticut says:
I received your catalog and was floored by how many items are listed, what a great catalog. Thank you very much.
---
Clint T. of Indianapolis Says:
Best Electronics is Awesome!
New Best Customer feed back review! on his first Atari order from Best Electronics.
---
If you would like to Add / Pass on a comment about your New Best Electronics Rev. 10 All Atari Catalog you just received to other Atari users, just E-Mail your Comments to us at:

bestelec@bestelec.digitalspacemail8.net
---
Best Rev. 10 Catalog Order Information

US Domestic Customers:

Out of the State of California

(includes shipping charge) Printed Copy U$D 15.45*

Within the State of California

Add your local CA Sales tax rate based on U$D 7.50 only plus U$D 7.95 Shipping to get a total

*Price includes current US Shipping charge, if you include a Best Rev. 10 all Atari Catalog with a normal Best Atari order, Catalog cost is U$D 7.50.

US Postal Money order made out to Best Electronics is the best payment method. Any other form of payments, like a personal check, other type or brands of Money Orders or Casher's checks can take up to a month or more to clear thru our Atari Accounting department and that Best all Atari Catalog order released to our Atari shipping department. We simply do not receive very many Personal Checks, other brand of Money orders or Cashiers Checks for Atari Mail order payments any more. So we are very lucky to do a once a month or less bank deposit of any personal checks or money order Atari Mail order payments. We go to the US Post Office almost 7 days a week here.

International Customers:

Shipping costs vary from Country to Country. Most International countries accept the Cost Effective U.S. International Priority Mail Flat Rate mailing envelope (around U$D 34.25 shipping charge, Canada U$D 24.94) service and some others only accept U.S. 1st Class Air Mail deliveries / service. Contact us Via , E-Mail or EFAX (number below) for Payment methods and shipping cost to your International location.
---
US / International Mail to address:
Best Electronics
672 Commercial Street
San Jose, CA 95112-1406

USA
Other information:
E-Mail: bestelec@bestelec.digitalspacemail8.net
Phone: (408) 278-1070 (1:30 PM to 5 PM PST)
Caller ID # required on all phone calls to Best
Information update, our original (33+ years) Best Electronics phone number (408) 243-6950 has been forwarded to our
current Best Phone number for over 20+ years now. Since that old Best phone number is only listed on some very very old
Atari flyers and the Best Rev. 10 all Atari catalog, the amount of phone calls we get on that old phone number are now down to 1 to
2 per a 6 to 8 month period. So Best will drop / discontinue that phone number as the 1st of 2018.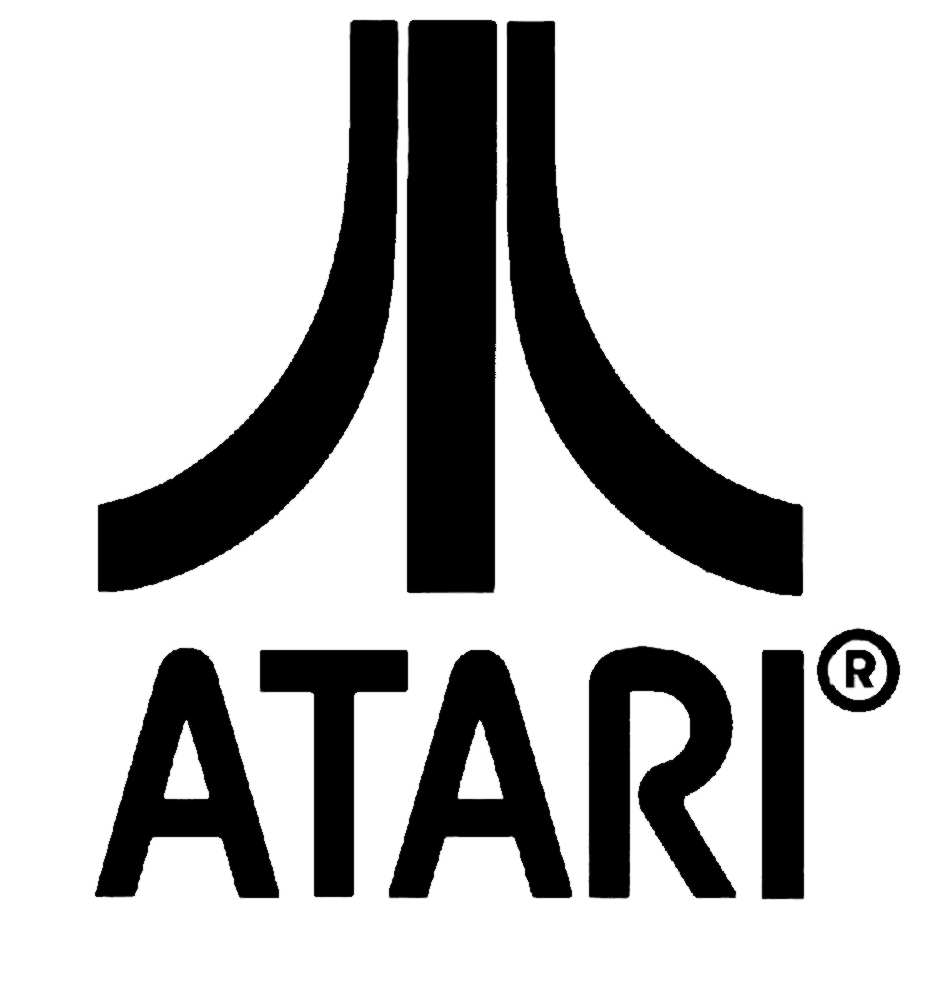 Current Pacific Standard Time is:
EFAX: (815) 364-3703 (7 Days / 24 Hours)
Copyright © 2002
Best Electronics in the Atari business since February 1, 1984.
Add Best Electronics All Atari Web site to your Internet Explorer Favorites folder.
This page Last modified: April 11, 2021