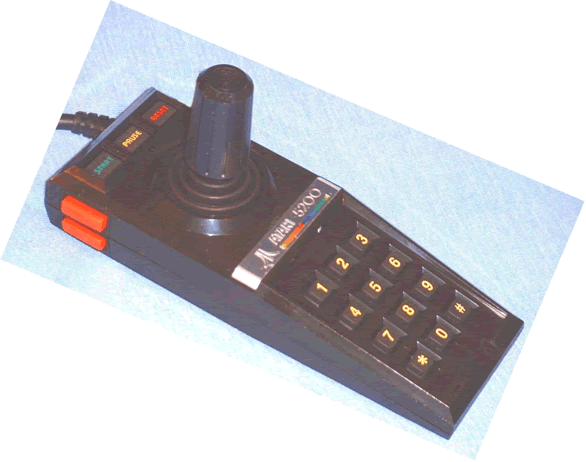 Rebuilding the Atari 5200 CX52 Joystick.
Based on Rebuilding Thousands and Thousands of Atari CX52 Joysticks over the last 30+ years and Selling the Atari OEM 5200 replacement Joystick parts to 20 to 30 thousand Atari 5200 Joystick end users and rebuilders, we have developed a extensive Knowledge base on the proper rebuilding of Atari CX52 Joysticks. Best Electronics is the Only Atari company on the Internet to provide you with such an extensive and informative article on rebuilding Atari CX52 Joysticks.
Yes when Atari first released the Advanced Atari CX52 System, there we a lot of problems with the ahead of their time design of the Atari CX52 Joystick. Basically Atari was blazing new uncharted ground when it came to new Joystick designs. The Internal parts in the Atari 5200 CX52 Joysticks went thru many Engineering Revisions / Changes / Improvements. For example, the earliest Internal CO18124 Flex Circuit Rev. level we have seen is around 3 or 4. All of the earlier Atari Engineering Revision levels of this Flex circuit had different failure rates. On one version the left or right fire button circuits would always fail, another version the Start, Pause and Reset circuit would fail and so on. The Best and Last version Atari Engineering came out with was the Rev. 9 Flex circuits. The left and right CX52 fire orange fire buttons also when thru many changes, like different size and number of conductive carbon dot contacts on the inside and a couple of tactile firmness designs. So if you were owner of one of the early made Atari CX52 Joysticks (Original Retail $50 – $60 each), it seemed that you were always having problems with them and had to buy or exchange them thru Atari for new ones. The Atari OEM CX52 Joystick parts and freshly Rebuilt / Upgraded Atari CX52 Joysticks we now have in stock use the
Last

and

Best

Atari Engineering designed CX52 replacement parts. In one case, better than the original Atari Engineering designed part 15 to 20 years ago. For more information on this New Upgraded Atari 5200 replacement part click on the following Best 5200 URL: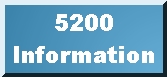 Atari 5200 Game Controller Vintage Tested Working.
Seller does not offer returns

Current 17 day E-Bay auction as of 07-03-21.
Buy it now for
$48.00 plus $9.00 shipping This E-Bay seller buys new CX52 Rev. 9 flex circuits only direct from Best Electronics and cleans the CX52 30+ year old carbon dot pads. Thousands and thousands of old Atari CX52 owners have done the exact cleaning process for the last 35+ years, it only lasts for a few months and the reconditioned CX52 carbon dot Joysticks will again go bad.
The Best 2005 designed CX52 Gold lifetime parts turns an old Atari Carbon Dot CX52 Joystick that fails all of the time into a Best Lifetime Gold CX52 Joystick. Ask any of the thousands and thousands of World wide Atari CX52 Gold Joystick owners if their Best Gold reconditioned / upgraded Joysticks or Best CX52 Gold Joystick parts they installed themselves 1 to 16+ years ago is still working. You will get the same 100% feed back comment, still working fine. Bests CX52 Gold Lifetime Joystick exchange price is $48 plus shipping. For more information on the Best exclusive CX52 Gold Joystick parts click here. For more World Wide feed back comments (after the Atari controller chart) on the Best CX52 Gold Joysticks and other upgraded lifetime Atari Controllers Bests carries click here.
To show you how State of the Art or ahead of its time Atari Engineering's design of the CX52 Joystick was for its day, some 15 to 20 years down line, most of the current PS2, Nintendo, Sega and Most PC Joysticks use the same type of internal designs pioneered by Atari Engineering on the CX52 Joysticks. Flexible Circuits, Silicone pads with Carbon Dot contacts and Analog Potentiometers (Pots) for X Y Movement (PC Joysticks) are now industry standard type of construction today.
Thomas S. of NJ
"I READ THE INSTRUCTIONS ON REBUILDING THE 5200 CONTROLLERS AND THOUGHT I WOULD HAVE A GO AT IT. I WAS SURPRISED IT WAS SO EASY, GREAT INSTRUCTIONS! THE FIRST CONTROLLER I REBUILT WORKS GREAT."
The Basic construction of the Atari CX52 Joystick housings are so well designed, that in most cases you can just about rebuild them for just about ever. All Joysticks are like Tires on a Car. They have parts that wear out! You do not expect your New Tires on your car to last a lifetime, no matter how little or much you spend on them, the same goes for any joystick. The more and harder you use them, the sooner you will have to replace or rebuild them.
Q. How difficult is it to rebuild an Atari CX52 Joystick and should I attempt to rebuild them or Send them into Best Electronics for exchange on some Freshly rebuilt Atari CX52 joysticks?
A. To properly rebuild an Atari CX52 Joystick, will require a person with some Mechanical knowledge. It is a little harder than changing a Tire or Battery on a car but not as bad as doing a full tune up. For Best's requirements and information on exchanging Atari CX52 Joysticks click on the Best 5200 URL below:
All Best Electronics freshly Reconditioned / Upgraded Atari CX52 Joysticks come with a 90 day Warranty (same as when sold new) and are supplied with the Unique and Exclusive Best Information sheet, How to extend the Life of your Rebuilt Atari CX52 Joysticks!
Q. We just dug out our old 5200 system. The Atari CX52 controllers look brand new but do not seem to work?
A. Yes this is one of the standard symptoms of Very Old (6 - 20 years old) but new looking Atari CX52 controllers. The Left and Right fire buttons or the Start, Pause and Reset buttons do not work properly.
Q. I saw on eBay somebody listed New in the box Atari CX52 controllers for sale. Would you recommend I buy them?
A. No, Atari has not sold any new CX52 controllers for about 9 – 12 years now. The last brand new Atari controllers Best bought wholesale out of the local Sunnyvale warehouse about 9 – 12 years ago, had about a 25% to 45% failure rate right out of the New box. By today's date they should now have about a 60% to 90% failure rate New in the box. I think they had been sitting in the Sunnyvale warehouse for about 4 – 5 years earlier and just went bad. Freshly rebuilt Atari CX52 Joysticks with new replacement parts will give you the maximum CX52 controller life today.
Q. What basic tools will I need?
A. Philip's Screwdriver, Flashlight, a small straight blade screwdriver, 5200 Missile Command Game Cartridge and about half hour to 45 minutes time the first time thru. Optional new Dust / Powder free disposable thin rubber gloves.
Q. Do you have 5200 parts Kits to rebuild Atari CX52 Joysticks?
A. No, everybody seems to order different components to rebuild their Used
Atari CX52 Joysticks depending on their exact condition. But we do have a Recommended Minimum set of components based on the 20 years we have been rebuilding Atari CX52 Joysticks, to get the Maximum life out of your CX52 Joystick rebuilt controllers. You should 100% replace the Flex Circuit, both left and right Fire Buttons and the Auxiliary pad (Start, Pause, and Reset) on each CX52 controller you are rebuilding. Basically you are replacing both sides of a mechanical switch. Like when you do a tune up on car, you do not just replace the distributor cap because is looks bad and reuse the rotor because it looks good, you replace them in matched sets for maximum tune up life. Many Atari CX52 Joystick rebuilders on the Internet or eBay, mix old used Atari CX52 joystick parts with new ones (they order mismatched sets of CX52 replacement parts from us). These rebuilt Atari CX52 Joysticks seem to work perfectly fine when you receive them. But in long-term use they will fail a lot sooner because of the mix of used and new parts.
From there you might need, Numeric keypads, Rubber boots, Controller cables, Pots, missing or damaged 52 Joysticks plastic parts. See the extensive Atari CX52 Joystick parts listing we have in stock at the end of the article.
Disassembly of the Atari CX52 Joystick
If you have several Atari CX52 Joysticks you are rebuilding for the first time, it is Recommended to do one at a time. That way if you forget how the fully assembled Atari CX52 Joystick looks like (or you run into a reassembly problem) when you are rebuilding your 1st CX52 joystick you will have a master(s) to go back and compare to. There is nothing more frustrating than taking apart several CX52 Joysticks the first time and forget how to put them back together again.
Turn the CX52 Joystick over, remove the 3 Phillips screws from the backside of the CX52 Joystick. Start at the top were the controller cable goes into the CX52 Joystick. Grab the top and bottom (12 'O clock location) and case halves of the CX52 joystick case. Put your fingertips / nails in between the case halves and pry them apart just a little (1/16 to 1/8 of an inch) but no more at first. Now move down to the bottom half (6 PM) of the Atari CX52 controller case, by the bottom of the numeric (phone) keypad. Pry this end of the case halves open the same amount as the top case. Now go back and forth between the top and bottom ends of the controller and slowly open it up.
The reason why you open up the Atari CX52 controllers halves this method is, on the numeric end of the Atari CX52 controller, inside of the top and bottom cases are a couple of locating plastic Male pins (top controller half) and mating hollow studs (bottom case). If you open up the top half (by the controller cable end) at to much of an angle, you can snap off (break) these internal aligning pins on the inside of the top controller half by the bottom inside edge by the numeric keypad.
Best Atari Tech Tip: prying with any type of tools (like a straight blade screwdrivers) along the sides of the CX52 controller halves to help pry the case halves apart, will leave dings in the top and bottom cases side halves edges, that you will feel with your palm of your hand and fingers when you are using the rebuilt CX52 Joystick. So it is best to use NO tools to pry the case halves apart.
As you slowly pry the controller halves apart, look from the left topside of the controller splitting case halves. Toward the top of the CX52 case (directly behind the left fire button), just inside of the top and bottom CX52 case halves, you will see the thin 3/8 to ½ inch wide flex circuit strip (Green, White, Blue in color) pull out of the top half of the CX52 joystick. This is normal! Instead of wires, this flexible flat strip is half of the mechanical Switch in the Start, Pause, and Reset circuit.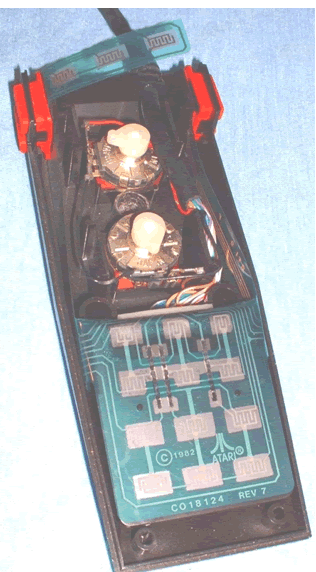 As you split the CX52 case halves and remove the CX52 top assembly, you will see the Left and Right Orange Fire Buttons in their slide in bezels (holders), numeric 1 – 9 silicone pad, and the Flex circuit. On the bottom half of the CX52 case, look for the two X Y controller Potentiometers (Pots) (Sliver, Brown or Black in color, about 1 inch wide diameter) (top 1/3 half of bottom case) with a small white pot arm pressed onto each of the ¼ round shafts.
Now turn over the top CX52 controller top. On the inside of the top CX52 assembly, look were the white shaft that comes thru controller top and fits into two sliding plates (top and bottom Actuator plates, black or white in color).
Note: the end of this White pivot shaft fits into a cup shaped holder on the bottom of the CX52 Joystick case between the Top and Bottom pots.
These two sliding plates in the Top CX52 case halves fit into two X Y different slots in the case half. When you reassemble the rebuilt CX52 Joystick, both siding plates must sit in these two slots / channels flat and slide freely left to right and top to bottom. You may or may not have to play with these plate assemblies (X2) so they sit flat into the top controller during reassemble.
Best Tech Tip: During reassembly of the Atari CX52 Controller halves, Hold the controller handle on the top CX52 case half in Top Dead Center location when installing it on the bottom half of the CX52 Controller. Also apply a little pulling (upward) pressure on the handle to hold the two Internal Actuator plates flat in their slots (on the inside of the case half) during assembly.
On the outside of the top half of the CX52 controller assembly, the Auxiliary silicone pad (Star, Pause, and Reset) is held into the top case half with a snap in / lock in rectangular plastic bezel. There are two basic styles of this snap in bezel, one with rounded edges and one with angular edges, which are interchangeable.
To remove this snap in Auxiliary bezel and remove the Auxiliary silicone pad from the CX52 top assembly, turn over the CX52 top half controller. Using a flash light, look on the inside of the top assembly under the Auxiliary pad area. On the far right and left hand sides of Auxiliary pad area (inside the controller top cavity) you will see a little rectangular shaped depressions on each end. Insert a small flat blade screwdriver into one of these rectangular cavities on the inside of the CX52 Controller assembly. Slightly twist your small straight blade screwdriver clock wise or counter clock wise. This will unlock the little locking clip on the snap in Auxiliary brown bezel and it should fall off the CX52 top assembly with the Auxiliary silicone pad.
Safety Note: When removing the Auxiliary bezel assembly, do not hold the top assembly with the palm of your hand directly under the Auxiliary Bezel area. Hold the top assembly slightly down from this area. Sometimes it takes some twisting downward pressure on the straight blade screwdriver to remove the snap in Auxiliary bezel from the top CX52 assembly. Many times over the years we have stabbed ourselves in the palm of our hand with the screwdriver blade as the snap in bezel finally came out of the CX52 Top assembly and the screwdriver blade passed from the inside of the top case to the outside of the case, thru the Flex Circuit pass thru rectangular opening / hole on the inside left or right hand side of the controller top.
See Bests instructions for installing the 2021 Best Designed / Upgraded / Enhanced New State of the Art Rev. 10 Gold Lifetime CX52 Joystick internal Flex Circuit.
On the bottom half of the CX52 controller half, remove the left and right CX52 fire buttons with their brown plastic bezels (both fire button bezels are interchangeable) and numeric keypad. Under each left and right fire button you will see the flex circuit strips, which are held into the CX52 controller with double sided tape. Slowly pull each fire button flex circuit strip off the right and left sides on the bottom controller half. Do not use any tools (like a straight blade screwdriver) to remove the fire button flex strips because you may scratch or damage the plastic mounting surface under the fire buttons. Note as you are removing the left and right flex circuits under the fire buttons, look for a small aliening notch on the bottom of each fire button flex circuit strip that Must fit into a small aliening / mating plastic tab on the inside of the CX52 bottom case half (use your flashlight to see these small aliening plastic tabs inside the bottom case assembly) when you are installing a new replacement Rev. 9 Flex circuit.
There should be enough double sided adhesive left over from the old flex circuits on the fire button left and right plastic backing plates, that will not need to replace this tape during the reassembly process.
Now move down to the numeric pad area on the flex circuit. This numeric portion of the flex circuit is held down on the removable numeric plastic support plate with a strip of double side tape, near the white cable connector.
Very carefully grab this flex circuit support plate on the left and right hand sides with your finger tips (under the right and left sides) With the same technique as opening the CX52 case halves, slowly lift the flex circuit support plate starting from one side just a little and then lift the opposite side. Go back left and right until the flex circuit comes off the bottom CX52 case.
There are three male plastic aligning pins molded into bottom of the numeric keypad support plate and female receptacles on the bottom half of the CX52 bottom case. If you pull this support plate off at too steep of an angle from one side or the other, you will break off one of the three aligning pins on the flex circuit support plate.
If you have a very stubborn Flex Circuit support plate that is pressed / locked into the bottom half of the CX52 controller half, you can break it free by gently prying the bottom of the Flex circuit support plate using your straight blade screwdriver. But try not to ding or damage the bottom edge of the CX52 case half with the screwdriver shaft.
<![if !supportLineBreakNewLine]>
<![endif]>As you slowly remove / pry the Flex circuit and Flex Circuit support plate assembly (together) from the bottom half of the CX52, note how portion of the flex circuit comes out of the long white horizontal female connector at the top of the Numeric keypad area. Also note, just about as the Flex circuit assembly is finally about ready to come of the bottom CX52 case, that there is flex Circuit loop (Upside down U shaped) portion that is installed under the numeric support plate during reinstallation of a new Rev. 9 Flex circuit.
Now that you have the Flex circuit and Flex circuit support plate out of the bottom half of the CX52 case, remove the old Flex circuit off the support plate. As you are removing the old flex circuit off the support plate, note there are two aligning tits (very small studs) on the surface of the support plate that fit into aligning holes on the flex circuit during reassembly.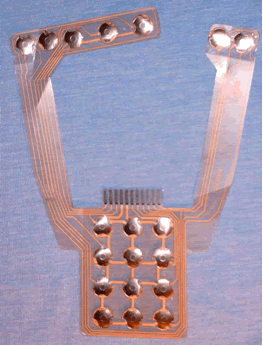 This is a Very rare prototype Atari CX52 Joystick Flex Circuit. It uses the same type of Crinkle dome contact switches as used on the original Atari CX40 Joystick internal PCB board. Unfortunately this prototype sample Flex circuit does not work properly, so it was never used on CX52 Joysticks. Very few Atari people outside of Atari Engineering have ever seen this Rare one of a kind Prototype Atari 5200 Flex Circuit.
Things to check before installing your New Atari CX52 OEM replacement parts
Each X Y pot (X2) on the CX52 joysticks are super glued to the bottom of the case. Many times, the Super Glue bond breaks over the years use and lets the Pot tip over at an angle during use thus causing a binding feeling during use. To make sure the glue bond is still good, grab the part arm and give it a gentle pull up. If the Pot comes out of its holder or tips over, it is time to reglue it back into place.
Note if you have to super glue (No other type of adhesive seems to work as well) in your pot(s) again, only apply the super glue to the outer circumferences of the bottom of the pot (avoid applying Super Glue to the center portion of the bottom of the pots), some CX52 pots have an exposed shaft thru the bottom of the pot. If you super glue this exposed center shaft portion of the pot to the CX52 bottom case, you will get some binding (drag) on that pot when you use your reassembled CX52 Joystick.
After you reglue the pot and reinstall it, apply a lot of pressure on the top of the Pot arm / shaft to make sure the Pot is fully seated on the bottom of the CX52 bottom case as the Super Glue cures. If the pot is not fully seated flat during the gluing process, the top of the pot arm(s) will bind / drag on the two upper sliding Actuator plates.
Double check all of the pot wire connections. Many times the pot wire Molex slide on contacts, short against each other (like when a pot looses it glue bond and tips over). If the Molex spring slide on contacts on the Pots(s), look close together push them slightly apart using your straight blade screwdriver. Check and make sure none of the internal pot wires and cable harness wires are rubbing against the pot arms or will be pinched (top screw hole) or will be crushed (Actuator Plates) when you close up the top and bottom case halves.
Installing New Atari CX52 Parts
The first time, you will need about 3 to 4 hands to properly install the flex circuit assembly in the bottom of the CX52 bottom controller. Install the New Rev. 9 flex circuit on the support plate using the two aligning studs on the support plate and flex circuit aligning holes.
Best Tech Tip: Avoid touching / putting hand oils, sweat on any of the exposed metal girds of the Flex Circuits. The same goes for any of the Black Carbon contacts or Gold contacts on any of the new Silicone replacement pads. You can use New Dust / Power free rubber gloves or paper towels to avoid coming in direct contact with any of the Flex Circuit or silicone pad switch contacts.
Now tuck the upper Flex circuit loop (upside "U" shaped portion of the flex circuit) (above the white connector finger contacts area on the flex circuit) under the flex circuit support plate. Then fold down the right and left side of the fire button flex circuits strips (so the will fit into the bottom half of the controller). Next hold this flex circuit and support plate assembly just over the bottom CX52 case and align the 3 support plate studs over the bottom CX52 housing support plates holes (3). As you slowly lower the flex circuit and support plate and tucked under Flex circuit loop into the bottom half of the CX52 case, insert the flex circuit edge card silver fingers into the white horizontal connector at the same time as you are pushing the support plate with the flex circuit into the bottom 3 aligning support plate holes. Make sure the flex circuit fingers (Mylar strip) is evenly inserted into the white horizontal pinch connector side to side. It is possible insert the flex circuit silver fingers so they do not make contact with the mating pinch connector metal contacts.
Once you get the flex circuit and flex circuit support plate fully seated into the bottom CX52 case, double check to make sure the edge card fingers of the flex circuit are fully seated into the white mating connector. Newly installed replacement flex circuits have to tendency to ride up (look from the left or right side of the bottom half of the CX52 assembly for a hump up in the flex circuit at the top of the support plate) on the support plate (that is why Atari put double sided tape at the top of the Flex Circuit support). If you see this flex circuit hump, push the flex circuit fingers fully into the white cable connector until this flex circuit hump disappears.
Next make sure the left and right fire button flex circuit ends are fully seated in place with the bottom of the fire button flex circuits in their small aligning notches.
With a clean paper towel, press each left and right fire button flex circuit strips against each right angle fire button support plate with the adhesive.
Next insert the new CX52 fire buttons into their fire button bezels (the fire buttons are symmetrical so there is not top or bottom ends or right or left sides) and then insert them into bottom half of the CX52 controller bottom. Get your flashlight and make sure the bottom edge of the fire buttons have not folded underneath themselves as you are inserting / sliding them into the bottom CX52 case.
Get the numeric silicone keypad. Note that on the CX52 numeric key pad that there are two small aligning thru holes between the 4 / 7 and 6 / 9 button portion of this pad. These two holes in this numeric silicone pad match up with the aligning studs on the support plate and holes in the flex circuit. Note the aligning studs on the flex circuit support plate are NOT tall enough to fit into the numeric silicone pad but are used as assembly reference points.
Drop the numeric silicone keypad on the Rev 9 flex circuit making sure you align the keypad 2 holes over the flex circuit support plate studs (which are now flush with the top of the flex circuit).
Now look into the bottom CX52 housing. Notice the two Pots with the white Pot arms on the shafts. Align the Top Pot arm so it points to 9 AM and the Bottom Pot arm so it points to 6 PM.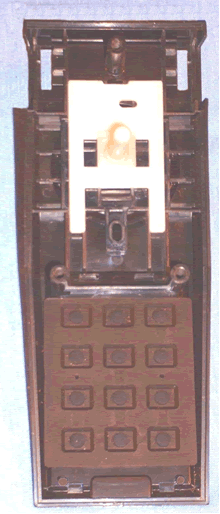 Next grab the CX52 Top assembly. Use above Best Tech Tip and hold the shaft assembly per instructions. Align the CX52 top assembly over the bottom case. Next grab the Auxiliary Keypad circuit strip section of the Rev. 9 Flex circuit (off the left fire button) and insert it into the inside of the CX52 top assembly rectangular pass thru opening, left side under the Auxiliary keypad area. Reach over the top left side of the CX52 assembly and pull the Rev. 9 Flex circuit Auxiliary Pad strip thru the left rectangular opening in the Auxiliary pad cavity. If all possible, again try not to touch the metal grids of the flex circuit with your fingers (thus leaving skin oils) during reassembly.
Now gently lower the CX52 top assembly on the bottom assembly. If the numeric keypad and Pot arms are in their proper locations and you held the shaft assembly per above Best Tech Tip instructions, the top assembly should drop on the bottom assembly close evenly around the case halves. It may take you 2 to 5 times of practice before the CX52 joystick cases will properly close up evenly.
If you have the CX52 Joystick cases half closed up properly, the Auxiliary Flex circuit strip should lay flat in the Auxiliary top cavity. If the right end of the Auxiliary Flex Circuit strip is over flowing the right hand side Auxiliary Cavity or does not meet flush with the Right hand side Auxiliary Cavity wall (when the Flex circuit strip is laid flat) then you have a top and bottoms case closure problem, or the left fire button flex Circuit is not fully seated in it aligning notch.
Next grab the CX52 Joystick handle and make sure if moves freely with No binding action. If it binds, disassemble the CX52 again and start over with the reassembly process. Binding is usually caused by the sliding actuator plates not flat in their proper slots, the pot arms are knocked out of their 9 and 6 O'clock positions during the reassemble process or some pinched wires.
Before you completely reassemble the CX52 Joystick, you should test it for proper operation.
Insert the CX52 joystick cable connector into the far left hand port on the 5200 console. Insert a Missile command cartridge into the 5200 console. Turn on the 5200 game. Hold the CX52 joystick handle in the top dead center of the CX52 joystick.
Using the small straight blade screw driver blade, and touch the far left Auxiliary flex circuit Top and Bottom interlocking "E" grids (Start switch) in Auxiliary keypad cavity. If everything on the inside of the 5200 controller is OK, the Missile Command cursor should start in the middle of the TV screen. Draw an Imaginary X on the TV screen from Upper left corner to bottom Right corner and Upper Right hand corner to bottom left any corner, to find this center / middle TV screen location.
Try moving the CX52 Joystick handle and make sure the Missile Command cursor moves freely around the TV screen. Try the left and right fire buttons.
If all seems OK, Stop the Game (touch the far right hand set of interlocking "E" grids in the Auxiliary cavity, (Reset switch) with the straight blade screwdriver). Next then turn over the CX52 Joystick and install the 3 screws into the bottom case.
Before you reinstall the 12 o'clock screw, use your flashlight and look into the screw cavity to see if you can see any pinched wire(s) between the top and bottom case halves.
Best Tech Tip: After you screw in the 3 CX52 controller case screws (using a Manual or power Phillips screwdriver) it is recommend that you back off each Phillips screw head a half to ¾ of a turn. There are two reasons why you should back off these CX52 case screws. On some Atari CX52 plastic Top case halves had under length threaded screw bosses (some CX52 top case plastic threaded screw bosses has a little round paper spacer placed on the end of the screw boss to add length to the bosses to fix this problem) when you tighten the 3 CX52 case screws completely down, you would cause the Top and Bottom internal CX52 Actuator Plates to bind and cause the CX52 Joystick handle to feel very stiff. The second reason to back off the screw heads, is when you have well worn Top and Bottom Actuator Plates with a lot of drag marks on them. If you back off on the screw heads you will find the CX52 Joystick handle will go from a Stiff feel to a little more smoother auction.
The last items to install in your CX52 rebuilt controller is, the Auxiliary keypad and Auxiliary snap in bezel. First hold down the Auxiliary flex circuit flat inside the auxiliary cavity (make sure you use the Paper towel trick and do not touch the Auxiliary flex circuit metal contacts). Next drop the Auxiliary silicone pad over the flex circuit. Before you snap in the Auxiliary locking bezel, make sure the Start button is on the left side and Reset button on the right side.
Note: We have not included in this article how to replace the rubber joystick boot on the Atari CX52 Joysticks. In a lot of cases it takes a special tool (pictured below) to properly remove the pressed on CX52 handle (required to replace the CX52 rubber boot). The pressed on CX52 handle can sometimes be removed without this tool, but it is a little harder job than the basic Skill level this article is written for. The CX52 joystick rubber boot is basically a cosmetic part and will not affect the overall performance of any rebuilt CX52 controller.
Trouble Shooting a freshly rebuilt CX52 Joystick.
Q. One rebuilt CX52 Joystick works perfectly and the other still has a (left or right fire button or numeric keypad problem.
A. Most likely the problem rebuilt CX52 Controller has a bad controller cable. But it can also be that the flex circuit fingers not fully seated into the white cable connector.
Q. On the 5200 Game Super Breakout the bottom cursor shakes as it moves side to side.
A. The bottom Pot inside the CX52 Joystick is bad. You can spray some Pot cleaning solutions inside the pots, but we find this is only a temporary fix. We find the Pot will again go bad soon. It is best to just replace the bad pot.
Q. On the 5200 Game Super Breakout, the Cursor will not go far left or right. (Or on Missile commend the cursor will not go all the way to the top or bottom of the screen.
A. Most likely the bottom pot arm has slipped on the pot shaft (in the Missile Command case, the Top pot arm has slipped) You will have to disassemble the rebuilt controller again. You can adjust the position of the press on pot arm on the shaft by turning the pot arm full clock wise or counter clockwise until it stops turning. Once the pot arm stops turning. Apply a little more twisting pressure on the pot arm until you feel it slip just a very little on the shaft. If you over correct the position of the pot arm on the pot shaft, you will have to turn the port arm the opposite direction until it stops and again apply pressure on the Pot arm until its slips just a little again. Note in some cases it will seem that the port arm is glued or molded on to the pot shaft, but it not, it is just a Very Very hard press fit. Once you have the correct the cursor position, it is recommended you apply pressure on the top of the pot arm to lock it back onto the pot shaft.
Another cause of this problem can also be an electronic problem (adjustment) on the 5200 motherboard. If both of your rebuilt CX52 joysticks have the exact same left or right / top to bottom cursor problems, then the problem is a 5200 electronic drift problem on your 15 to 20 year old 5200 console and NOT a slipping pot arm on the pot shaft. Call us for more information and how to correct this problem over the phone. Have your 5200 console set up on your TV ready to use, a rebuilt CX52 Joystick, Missile Command or Super Breakout 5200 Cartridge, a Phillips screwdriver and a small straight blade screwdriver.
Q. The fresh rebuilt CX52 Joysticks (even with the new Gold Dot Pads) seem to go bad fast (1 to 5 months) and have to rebuilt again.
A. Mostly likely you have a bad 15 to 20 year old 5200 Motherboard with weak joystick port circuits. We find in 100% of the cases, when we send out a replacement 5200 motherboard up to Factory specifications, rebuilt carbon dot CX52 Joysticks go from months of use, to the normal Years and Years use between rebuilds.
Q. I have the same problem(s) on both fresh rebuilt CX52Joysticks.
A. First try both rebuilt CX52 Joysticks on both ports 1 and 2 (two player 5200 Game cartridge) to see if the problem is in a particular Joystick port or a 5200 Motherboard problem. If you determine the problem is with one 5200 console joystick port, pull out the controller cable out of that port and make sure you can see 15 exposed Male pins on the 5200 console port. Some 5200 joystick problems are caused by a pushed in male pin(s) or broken pin(s) on the DB-15 Male 5200 right angle connector.
If the problem(s) are the same on both ports, then the 5200 Motherboard is most likely bad and will have to be replaced.
Q. As I play with my freshly rebuilt CX52 Joystick, some of the functions (like fire buttons) seem to work, then stop working and then start to work again. On 5200 Missile Command, the cursor jumps from middle of the screen to a bottom corner of the screen while I play the game.
A. Mostly 1 to 14 of the wires in your CX52 cable assembly are broken or shorting out within the cable housing (usually this happens near the CX52 Joystick cable strain relief next to the top of the CX52 Joystick controller case or by the CX52 joystick plug in cable connector strain relief next to the Atari 5200 console joystick port). As you flex the CX52 cable housing during play these bad wire(s) make and break contact or short out.
Q. Some of the Keypad number functions work and other are dead.
A. Disassemble the CX52 controller again and make sure the Flex circuit edge card silver fingers are fully seated into the White Molex pinch connector. If they are fully seated then you have a bad CX52 Controller cable. It can also be a bad new flex circuit, but this is extremely rare!
Q. The first time I resembled the rebuilt CX52 both Pots were working fine, but I had another problem and had to disassemble the CX52 again. Now one of the Pots is not working at all.
A. Disassemble the CX52 Controller again and look for damaged (cut or pinched) Pots wires (X4). Also look for Pot wire metal slide on contacts that have come off the Pot metal contacts or broken off pot metal contacts.
Q. One of the older (well used) rebuilt CX52 Joystick feels Stiff compared to the newer (less total use) rebuilt CX52 Controller.
A. Replace the worn Top and Bottom Actuator Plates and the Actuator Square slide block (in a matched set) on the stiff feeling rebuilt CX52 Joystick.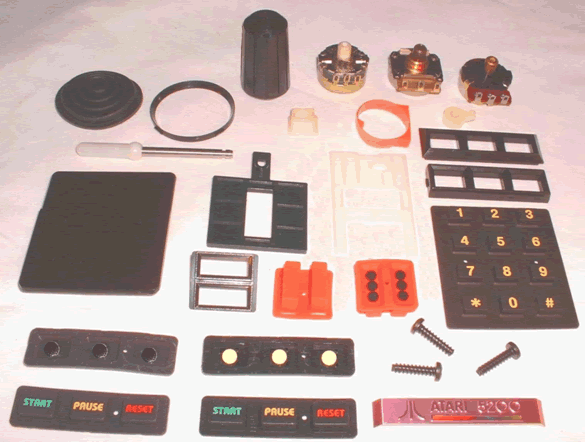 Here is a Short list of the Most Requested Atari CX52 Joystick / 5200 Console parts we carry:

To Read about the Best Electronics New Gold Series of Lifetime 5200 Joystick internal Silicon parts with prices!
CO18124 CX52 Rev. 9 Flex Circuit $9.95 (total limit 10 pcs)
CO18124-G CX52 Gold Rev. 9 Flex Circuit Sold Out
The New 2021 Best Designed / Upgraded / Enhanced Rev. 10 Gold Flex circuit CO18124-BG $20.95 Min. Sale 2
See Bests instructions for installing New State of the Art Rev. 10 Gold Lifetime CX52 Joystick internal Flex Circuit
CO18128 CX52 Carbon Dot Auxiliary Function Keyboard $3.50
CO18128-G CX52 Gold Dot Upgraded Aux. Keypad $5.00 (Lifetime part)
CO20501 / CO18127 CX52 Triple Conductive carbon Dots Top and Three Dots Bottom Fire button $5.95 ea. (2 fire buttons per CX52 Joystick controller) Limit 4
CO20501-L CX52 Large (3/16 Dia.) Single Conductive carbon Dot Top and Bottom Fire button, one large dot top and one large dot bottom fire button $4.95 ea. Limit 6
CO20501-S CX52 Small (1/8 Dia.) Single Conductive carbon Dot Top and Bottom Fire button $3.95 ea. (New found 5200 item)
New 2nd Generation late 2012 design Gold Fire buttons with Tactical feed back feature. CO20501-GT $7 per fire button (New Gold Fire buttons are sold as a matched set of 2 Gold fire buttons with one Gold Numeric Keypad). For more information on the new 2nd Generation Gold Dot fire buttons click here. (Lifetime part)
See above Click Here button for Best Exclusive CX52 Joystick Gold dot Lifetime CX52 Fire buttons and other Gold CX52 Joystick parts!
Ricardo C. of Costa Rica Ricardo contacted Best via E-Mail. He purchased a used 5200 4 port console. When he turned it on, it went from Snow on the TV screen to a Black screen. 4 to 5 E-Mails back and forth, Atari 5200 Diagnostic questions asked and answered. Because of his International location, Best told Ricardo the safe bet was to get a complete set of 5200 Atari custom chip set. "I got the chips few weeks back, but it was until today that I dedicated some time for this... And I have great news, Its Alive!!! Ha ha. I'm writing this email because I wanted to say THANK YOU one more time, and also thanks to the rest of the Best Electronics team, you guys really are the "Best Atari Supporting Company ever", I wish you guys have a successful and very productive year, keep on the great job guys and thanks again for making this thing happen!!! Also, I have recommended Best Electronics to some of my Retro Gamer colleagues so hopefully they will be in touch with you some day!"
Scott Z. of MI Scott contacted Best to place another Atari order. He said: "I recently have been going through my Atari systems, and got my 5200 going again, and of course the first thing I noticed was what bad shape the controllers were in. It was finally time to place an order with you. Of course I replaced everything, new gold dot keypad, new gold auxiliary keypad, new gold tactical fire buttons, and of course new gold flex circuits. After calibrating the pots inside the joystick, and on the console, I now have a perfectly working Atari 5200, with perfect-looking and working joysticks that are better than new! That joystick is almost a pleasure to use now! :-) So, I just wanted to say thanks. Without your parts, bringing some of these consoles and systems back to life simply would not be possible."
"I look forward to dealing with you again in the future."
Follow up Comment: Received everything today, Thanks again!!
Bob S. of IL "I've had my 5200 for about 37 years and for just about all of that, its been unusable. After years of searching, and searching and more searching, to have finally found your gold replacement parts; what a joy! In September I purchased two of the Atari 5200 Gold replacement parts kits. It's been a month but I finally got around to the rebuild. Your explicit, step by step instructions were easy to locate on your website. As for the rebuild, it was easy, straight forward and most of all fun. All 2 joysticks work flawlessly. The 5200 games I have (over 20) all bring back memories. My son who just turned 31 is enjoying this experience for the first time. In short, it's really nice to pull the 5200 out after decades of non-use. The sense of accomplishment that my perseverance of the pursuit of 5200 parts has brought me. I am an Electrical Engineer and retired 2 years ago. With the weather getting colder (Chicago) and most of the 'Covid 19' outdoor chores done, I was this close to designing my own joysticks. But now I don't need too. Thank you for giving me the tools (parts) to brighten up what has been a stay at home."
CO18126 CX52 Carbon Dot Numerical Keypad set Sold Out
CO18126-G 2ND CX52 Gold Dot 2nd Gen. with tactical feed back Numerical Keypad set $7.00 (Lifetime part)
CO18121 CX52 Joystick Handle $3.00
CO18120 CX52 Joystick handle metal Pivot Shaft $8.95 Limit one
ATARI 5200 CONTROLLER REBUILD REPAIR KIT NEW JOYSTICK INSTRUCTIONS INCLUDED.
9 available
/
6 sold
30 days money back or item exchange, buyer pays return shipping, 15% restocking fee may apply
Current 6 day E-bay auction as of 10-01-17. Buy it now for $23.95 with $3.40 shipping
(
These new Atari 5200 CX52 Joystick parts were purchased direct from Best Electronics for resale on E-Bay by the E-Bay seller)
Bests New Atari CX52 Joystick parts (Flex Circuit, Carbon dot Aux. Keypad, Numeric Keypad, 2 Fire buttons) with normal 90 Day Atari Warranty. $15.40 with max. US shipping $7.15
CO18123 CX52 Flex Circuit Support Plate Sold Out
CO18111 CX52 Fire button Bezel $2.00
CO19654 / CO18110 CX52 Snap in Auxiliary Function Bezel $1.25
CO18108 CX52 Brown top plastic controller case half, no label $8.95 (New found 5200 item)
CO18112 CX52 Top Actuator Plate $3.95
CO18113 CX52 Bottom Actuator Plate $2.95
CO18114 CX52 Actuator Square Slide Block $2.50
CO18118 CX52 Controller Potentiometer, 1st Gen. Panasonic version Sold Out
CB101928 CX52 Pot Ring, required on Panasonic version Pot $1.50
CO18117 CX52 Pot Arm $2.95
CO21084H CX52 Controller Boot High profile (about 1/2 inch high) $5.00 (Limit 2 per customer)
CO18116 CX52 Controller Boot Retaining Ring $.40
CA018145 CX52 Controller Cable assembly $16.95 (Limit one)
CA018145N Non Atari made new CX52 Controller cable assembly $12.95 (Limit one)
CB102235 CX52 Case Screw Set (3) $2.00
FC100214 Atari Consumer Products Service CX52 Knob Puller Sold Out
CO18013 DB-15 Male Right Angle Joystick connector $1.75
CO18081 Atari 2 and 4 port 36 pin Cartridge connector $5.95
Darren J. of KS
On his 1st Atari order to Best Darren ordered some of Bests CX53 5200 Trackball Gold lifetime silicon pads sets and a new CX53 Internal upper case control PCB panel. He also ordered one of Best CX52 Upgraded Gold Lifetime CX52 Joysticks and a New replacement 5200 4 port motherboard with Heavy Duty RF cable.
"Thanks for getting my order so fast! You guys are awesome! I am so happy to get incredible service and find a knowledgeable staff that can help me fix all my atari needs. My new 5200 motherboard works great as well as my track ball parts and gold controller upgrades are top notch. Thank you again! you guys really are the best!"
Follow up Comment received the same day: I shipped an atari 5200 controller today for the exchange program for the full gold upgrade with all the options.
For Atari 5200 motherboard chips click here.
CA018087 Atari 5200 4 Port fully populated US / NTSC Motherboard, less HD RF cable Sold Out
CA018087U Atari 5200 4 Port fully populated US / NTSC Atari Engineering Upgraded, last version 5200 Motherboard made with Atari 5200 retro fit Kit built into the motherboard. This last production run of Atari 5200 4 port Motherboard has the 5200 Retro fit kit designed into last 5200 4 port motherboard. So this Atari 5200 4 port new replacement motherboard will work with the Atari CX55 2600 "T" shaped 2600 adapter. About 98% to 99% of the Atari 4 port consoles and 4 port 5200 motherboards made will not work with the Atari CX55 2600 Adapter, less HD RF cable Sold Out
CA018087-R Reconditioned US Atari populated 4 port motherboard, less top and bottom RF metal shields, less H/D RF cable. $95.00
Buy the 5200 4 Port H/D RF cable below at the same time and Best will solder it onto the above reconditioned Atari 5200 4 port motherboards No Charge
CA018218 Atari 5200 4 Port Motherboard Heavy Duty RF cable $26.95 4 left in stock
CA018218U Atari 5200 4 Port Motherboard Heavy Duty used / tested RF cable $19.95
CB101184 Atari 5200 4 port Motherboard PCB part number CA018087 (see 5200 4 port left front top side corner for the Atari 5200 PCB part number) retro fit kit for the CX55 2600 adapter. Kit requires soldering, cutting 5200 Cartridge connector pins and soldering on a wire harness with components attached to the 5200 4 port motherboard. Kit Includes components, wire hardness with components, Atari Engineering installation instructions. $12.95
CO19277 Small Atari 4 port US 12 page owners manual / pamphlet $10.95
CO21474 Small Atari 2 port US 12 page owners manual / pamphlet $9.95
CO12951 Atari 5200 Motherboard On/Off switch $1.50
CO18139 Atari 2 / 4 Port 5200 console case, left rear small Expansion door cover $3.50
CA018266 Atari 5200 CX522 4 Port Custom TV switch box $45.95
CB101086C Atari 5200 2 Port Cable ready TV switch box $9.95
CO14715 Atari 2 port right angle power jack $1.00
CA021374 Atari 5200 2 Port fully populated US NTSC Motherboard (less RF shields) $75.00
Ian S. of TX. Ian had purchased an Atari 5200 2 port console, but when it arrived it was having some video issues which he was not to happy with. A couple of Best 5200 trouble shooting tips to Ian and several E-Mails later, Bests suggestion was to get a new drop in Atari 5200 2 port US motherboard. "Thank you so much! The 5200 motherboard works perfectly!"
CB103118 Atari CX53 Trackball Bearing only. set of 5 New Bearings $15.95 Below Wholesale cost! Special buy!
Marcal M. of Spain Marcal contacted Best about his Atari CX53 5200 Trackball problem (the game cursor would not go up down, a common Atari problem on the CX53 Trackballs) he was having. He ordered two new Atari CX53 Optocoupler replacement modules and one set of Best's exclusive CX52 Gold Lifetime Joystick upgrade parts. "Just wanted to confirm that my order was received and installed and all works flawlessly, I'm very happy!"
CO20290 Atari CX53 Trackball Motherboard X / Y direction Optocoupler black module. $5.00 Atari 5200 Tech tip: Because of the very high failure rate (80% to 90%) of the Atari CX53 Trackball original lot of motherboard Optocoupler modules used, it is recommend you always replace these in matched sets of 2. The New Atari CX53 Optocoupler replacement modules we have in stock are a completely different Date Code / Lot number, in some cases a completely different manufacture of Optocoupler modules compared to the stock / original Atari CX53 ones used with a high failure rate.
CB103163 5200 CX53 Trackball rebuild kit, a set of 5 complete CX53 Motherboard I.C. chips plus 2 Optocoupler modules $15.00 (for Atari 5200 CX53 Trackball with one or two dead cursor X / Y directions) New Item!
CB103164 5200 CX53 Trackball Complete rebuild kit, a set of 5 complete CX53 Motherboard I.C. chips plus 2 Optocoupler modules and 5 New CX53 bearings $30.00 New Item!
To see the Atari CX22 Trackball rebuild kits click here
CB103169 Atari CX53 Trackball Top Case Silver metal label $15.95 (New found 5200 item)
Atari 5200 Diagnostic Information: When Atari brought out a new product like the Atari 2600, 5200 consoles, Atari 400 / 800 computers, all ST / Mega / MegaSTE / TT / Falcon computers, they had an Atari Engineer or Engineering group produce Atari Diagnostic Manuals and Atari Diagnostic Hardware to support the new products at their US Wide Atari Authorized Factory Service Centers.
When Atari 1st came out with the Atari 2600 Diagnostic Cart nobody else in the Consumer Electronics service industry had such a State of the Art Diagnostic Tool coupled with a full Atari 2600 Field Service Manual with trouble shooting Diagnostic flow charts for their product service centers. Considering the Atari 2600 Engineers had to only work with a 2K or 4K of Diagnostic cartridge ROM memory (which was State of the Art of memory storage for that time frame and very expensive) Max., it was amazing what that 1st Gen. Atari 2600 Domestic and Foreign Diagnostic carts could do.
What Atari Engineers learned on the 2600 Diagnostic cart and external Test hardware, was applied to the new Atari 5200 console. ROM (Read Only, Memory) storage cost was dropping because of the very high volume (Millions if not Billions) of ROM chips Atari would purchase each year. So Atari 5200 Engineers could put more 5200 console Internal tests to fully Test / Diagnose an Atari 5200 console at any Authorized Nation wide Atari Service Center or internally within Atari repair / refurbishing services.
To fully ring out (continues loop testing) / Test a repaired Atari 5200 console, Atari Engineers developed a 5200 Diagnostic cart that would test / run on a tube TV, a Color Bar Test (GTIA Color Pot Adjustment) almost unheard of for the time, only TV Tube Repair shops had such a high end and very expensive Color Bar generator, Gray Bar test, Any Video (Antic test) screen Test, Pokey adjust (2 to 4 motherboard Joystick ports) calibration back to factory specs, RAM chips Test, Verify 5200 OS ROM Test, Tone Test (4 voice Pokey sound test) on a single diagnostic Tests with failure number screen or would show / run (failure numbers / types are shown in the Atari 5200 Factory Field Service manual failure chart and Diagnostic logic / flow charts) continues loop testing mode (great for burning in repaired 5200 consoles) updating test screen error display matrix on each test cycle.
Lately some Atari 5200 end users have developed so Called modern versions of the non Atari made 5200 Test / Diagnostic carts or Pete's 5200 Test cart. A lot of those newer / extra 5200 console tests are just fluff / just for show and really do not fully check out a 5200 Console / 5200 motherboard to the Original Atari Engineering 5200 Factory Spec's. Best knows this because every 10 to 15 Atari Factory Spec. tested 5200 2 / 4 port replacement motherboards we send out every year, somebody contacts Best saying his new replacement Atari motherboard fails the 3rd partly designed Diagnostic joystick port tests. The standard reply we give back to that Atari 5200 owner, is Best only tests each New Atari 5200 motherboard we send out, using Atari Factory Certified 5200 Diagnostic Test Hardware. That is our 39+ year Bench Mark Atari Engineering 5200 standard / tests we have only used on thousands of Atari 5200 motherboards we have ever shipped out.
One of the flaws of the non Atari made 5200 Diagnostic cart port tests, is they all use an old 35+ year un-calibrated Atari CX52 Joystick (installed into 5200 #1 port) that may or may not be in factory Joystick spec's (internal CX52 Pots that may be out of internal adjustment). Best has seen thousands and thousand of old Atari CX52 Joysticks cores that are out of 5200 joystick pot spec's over the last 35+ years of rebuilding Atari CX52 Joysticks. This usually happens when a CX52 Joystick handle is jammed or forced very very hard in one or more directions in 5200 game play or if the super glue bond on the bottom of the top or bottom CX52 Pot breaks free and pot tilts down at an angle. The pressed on (1 or 2 right angle) CX52 pot arm simply slips on the Pot plastic shaft. Throwing the old CX52 Joystick out of Atari X / Y, Factory CX52 Joystick Pot spec's, sometimes just a little to a major difference. The other problem on non Atari made Diagnostic Carts, is if you use a freshly Reconditioned / Upgraded / Certified to Atari factory specs Best CX52 lifetime status Gold Joystick, we get the feed back comment, is my 3rd party 5200 Diagnostic cart says your reconditioned Joysticks are bad. Both fail the port X / Y test. We explain that all of our Reconditioned / Upgraded Best Gold Joysticks for the last 35+ years are tested twice (just after rebuilding, then put into stock, then before it is shipped out, they are again tested and passed, before they are sent to our Atari shipping department) on Atari Certified Factory spec. 5200 motherboards. In 99.9% of the cases Best runs into this type CX52 Joystick problem in last 35+ years, it ends up the 35+ year old Atari 5200 motherboard has drifted out of the Atari 5200 port settings (the 3rd party 5200 Diagnostic Carts do not properly detect / Diagnose this type of port problem) and has to be adjusted back to Factory port spec's. This usually can be done over the phone with Best.
Atari 5200 Engineers got around this CX52 Joystick pot arm slipping problem by designing a separate Atari Fixed / Calibrated 5200 2 or 4 port loop back PCB board (the Atari 2600 Diagnostic cart used 2 Atari Modified / Calibrated Atari DB-9 Female shorting / loop back plugs). This Atari 5200 Diagnostic loop back board has 2 (for the 2 port 5200 motherboards) or 4 DB-15 right angle Female connectors and 2 or 4 RED LED's (to show that each 5200 port is getting a true 5 volt signal) that is inserted into all of the 5200 console ports at the same time. During the 5200 Diagnostic loop tests the 5200 console CPU chip sends to each joystick port signals that are shorted / looped back into the 5200 console, so the 5200 Diagnostic cart can send / receive and verify that port signals are properly going thru that DB15 5200 joystick port and returning back to the CPU chip. Atari employees who worked on the Atari 5200 assembly / test line, nick named this 5200 test port card as the CRAM card. Best has several actual Atari Collector status production line versions (slightly larger than the green ones sent to the authorized Atari Service Centers) of these 4 port CRAM cards with a white plastic handle attached and the hand written name "Cram" on the PCB itself.
Best has seen hundreds and hundreds of old 5200 Consoles and New 5200 2 / 4 motherboards we have in stock, that 35+ years after they left Atari 5200 PCB assembly line, have Electronically drifted off Atari Factory 5200 Port specifications settings. Best 100% Tests all new 5200 motherboards we have ever sent out, using the Atari Factory 5200 Diagnostic Cartridge / Hardware. We adjust them back up to Atari 5200 Port Spec's before we send them out.
About 22+ years ago, Best's Atari Super tech developed a way we could help our Atari 5200 owners try to adjust their 5200 port problems over the phone using the standard Atari 5200 Missile Command. This Best developed 5200 port Calibration method, has been cloned, copied, had Youtube videos created and passed on by the different Internet Atari 5200 web sites as their own developed method for Fixing / Calibrating 5200 motherboard ports. In most cases, it will fix an old 5200 console or Atari Customer just rebuilt Atari CX52 Joysticks, to get them properly working again on your old 35+ year old 5200 console. But it does have a couple of possible problems or draw backs. If your old rebuilt CX52 Joystick pot arms have slipped on the internal pot shafts and or the 35+ year old 5200 console Pokey chip / Pot setting have electronically drifted off the Atari 5200 factory settings, you end up fixing 5200 Joystick port problems with a couple of out of Atari tolerance / factory spec's patches or both problems. So you could take that same customer rebuilt Atari CX52 Joystick that worked fine on recalibrated / out of tolerance 5200 console, only to have it not properly work (Pot arms have slipped on the CX52 Pot shafts) on a different 5200 console.
So it is best to always test any rebuilt Atari CX52 joystick(s) on a known good (Tested Good Atari 5200 console that has passed all of the Atari 5200 Factory Diagnostic tests) Atari 5200 console / 5200 motherboard. So if you send out a freshly rebuilt Atari CX52 Joystick and your Atari 5200 customer says he is having a problem like can not go far right or left screen travel on the 5200 game screen, you know the rebuilt Joystick (CX52 Joystick Pot arms are to factory specifications) you will have walk your 5200 Joystick customer thru the internal motherboard Pokey adjustment using a 5200 Missile Command game cartridge method.
Once your Atari 5200 console or 5200 motherboard Joystick ports are adjusted back to Factory Specs via the Port Adjustment pot on the 5200 motherboard, when rebuilding any old CX52 Joystick, you can easily detect and adjust (twist) the slipped pot arms back to the 9 PM and 6 PM proper directions on the CX52 joystick 2 internal Pot shafts.
Best Electronics uses 5200 motherboards that has passed (they are retested / certified every time, before a new group of rebuilt / upgraded CX52 Gold Joysticks are about to be tested) all of Factory 5200 Diagnostic tests to test every newly rebuilt / upgraded CX52 Gold Joysticks for the last 35+ years. So when we hear back from a new Best Gold CX52 Joystick customer that just received his Gold Best CX52 Joystick, saying he can not travel far Left or Right of the 5200 game screen, Best knows the new CX52 Gold Joystick owners 5200 console has drifted out of the 5200 Port setting / specifications. A quick phone call to Best and a few minutes later we have walked thru the Port adjustment with the Atari CX52 owner and their 5200 console is back in Atari Factory 5200 port spec's and the Best Gold Joystick is now working fine.
So if you repair Atari 5200 consoles or rebuild Atari CX52 Joysticks on a regular basis, the Atari 5200 Field Service Manual, 5200 Diagnostic Cartridge and port loop back boards are the must have Atari tools to have to make sure your 35+ year Atari 5200 motherboard(s) or rebuilt Atari CX52 Joysticks are up to Factory Spec's.
FD100127 Atari 5200 U.S. Field Service Manual for 2 and 4 Port Models. 115 pages $35.00
FD100144 Atari 5200 2 / 4 port consoles CPS Diagnostic Cartridge $49.95
FA100046 Atari 5200 CPS Diagnostic Joystick Loop back 4 port jumper board. $25.00
CB101743 Atari 5200 CPS Diagnostic Joystick Loop back 2 port jumper board. $30.00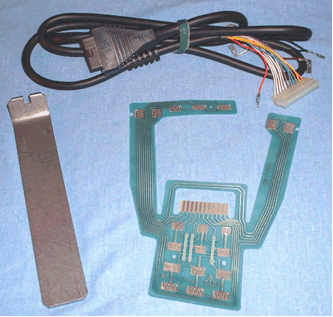 This 5200 article is Copy Righted © 02 / 2003 and may Not be reprinted (a Personal printed copy is OK) or distributed in part or whole on the Internet or in any form without express written permission from Best Electronics.
---
Add Best Electronics All Atari Web site to your Internet Explorer Favorites folder.
Copyright © 2002 CompanyLongName
Best Electronics in the Atari business since February 1, 1984.
This page Last modified: May 09, 2023
Phone: 408-278-1070 (1:30 - 5 PM, PST, M - F)
Caller ID # required on all phone calls to Best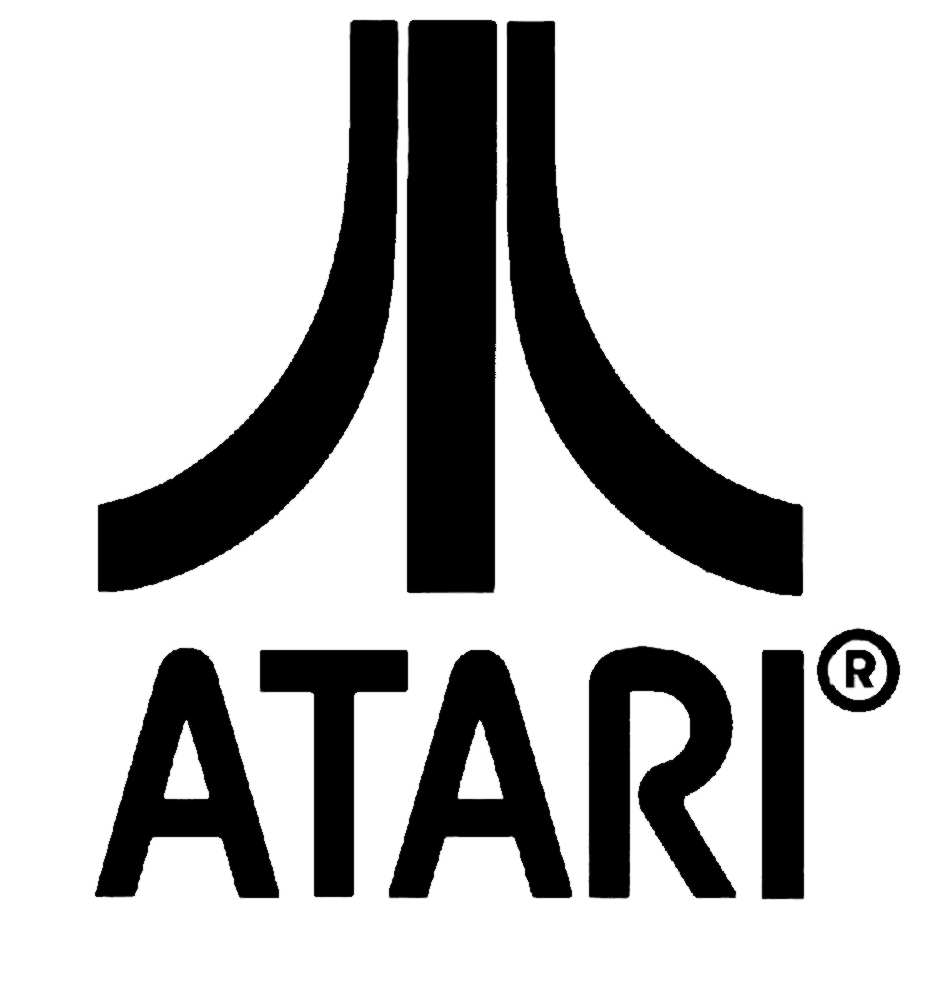 Current Pacific Standard Time is:
E-Mail:
bestelec@bestelec.digitalspacemail8.net