Do you have one of the Classic Atari CX40 Joysticks that is not working well? We have the perfect Solution for you.
When it comes to all Joysticks you have to consider them like Tires on a Car, with enough time, use or abuse they will have to be replaced or rebuilt. Fortunately the Atari CX40 Joysticks were so well designed 30+ years ago (and supported by Best Electronics), that a simple Atari / Best Basic Rebuild kit can bring your non working or poorly working Atari CX40 Joystick(s) back up to like New condition (in 95 to 99% of cases) for years and years of extended use.
How hard is it to do an Atari CX40 Joystick basic rebuild?
Basically you need a Phillips Screw Driver, small flash light and the Skill level to change a tire or battery on a car.
The
Basic Atari CX40 Joystick Rebuild Kit
(Internal CX40 Handle and Printed Circuit board) will Cure about
95% of the Atari CX40 Joysticks with problems. In the other 5% percent of cases, you might need an Atari CX40 Joystick Cable, rubber boot, boot ring or fire button spring.
Atari Joystick History
Over the last 30 years Atari made two basic styles of the Atari CX40 Joysticks. Both styles look just about identical from the outside at quick glance. The Early Atari CX40 Joysticks (about 5% or less of the Total production ever made) (sometimes called Atari CX10 Joystick) had a different internal Construction, compared to the Bulk of the Atari CX40 Joysticks made, which the Atari CX40 Rebuild kit pictured above will rebuild. You can tell the difference from the Atari CX40 Joystick by looking on the bottom of the CX40 Joystick case. The Early version CX10 Joysticks had the 4 Phillips screw heads about 3/16 of an inch below the surface of the joystick bottom case. On the Bulk of the easy to rebuild 2nd. Gen. Atari CX40 Joysticks, the 4 Phillips screw heads are about 5/8 inch below the surface of the bottom case. The Basic / Common part you can replace on the Early version Atari CX10 Joysticks are the Atari Joystick cable only.
Picture of the 1st Atari CX10 Joystick inner handle
with springs and white Actuator plate that sat
below the CX10 handle with springs. So the CX10
sub-assembly was Handle, Actuator plate and CX10
PCB with wires attached that was screwed to the
inner / inside CX10 top case with 2 Phillips screws.
Also the Orange / Red fire button had a single large
spring as used on the CX10 handle.
---
Things to check first:
Before you start to rebuild or buy any replacement parts for your ailing Atari CX40 Joystick(s), check the following:
Check the Female end of your Atari CX40 Joystick connector/plug for
damaged female contacts or broken male pins inside the female contacts (if you can see the female contacts). In most cases you will see some contact holes (1 to 3) which are empty (do not have any female contacts in them at all) this is normal.
Check the CX40 Joystick Cable for Cuts in the black outer jacket, Exposed copper wires, sharp bends in the wire, especially around where the cable goes into the back of molded joystick female connector.
Shake the CX40 Joystick and listen for any loose broken plastic parts floating around the inside of the case.
If you hear some broken plastic parts inside, open up the CX40 Joystick and check to see if the Joystick Bottom case internal center black cone shaped stud (the CX40 Handle bottom support) is broken off. If this cone shaped support stud is broken, consider the CX40 Not rebuildable.
Check the CX40 orange Fire button. Check the inside fire button center stud / small diameter round post that makes direct contact with the CX40 fire button Dome Contact on the mating CX40 Joystick PCB board. Sometimes because of too much thumb pressure used on a failing CX40 fire button / contact, this CX40 fire button small diameter orange center plastic post / stud mushrooms over (shorting it's total length), so this short fire button post will no longer make proper contact (push the CX40 PCB contact so it makes contact with the Mating fire button PCB trace) with a new CX40 Fire button Dome Contact.
---
The following Atari CX40 Joystick rebuild instructions are for the 95% of the Atari Joysticks made
with 4 deep screw holes.
Turn the Atari CX40 Joystick upside down and remove the 4 Phillips Screws and set the screws in a safe place. Hold the CX40 Case together with rubber boot down. Carefully lift the bottom of the Atari CX40 Joystick off the top case with the rubber boot just a little. Look inside the CX40 Joystick and note how the Internal Atari CX40 Printed Circuit Board (PCB) is oriented to the orange fire button, which side of the PCB board the 5 silver contacts are located (facing down) and how the PCB sits on the two aligning studs/pins on the top half (inside) of the CX40 Joystick top case. As you slowly remove the bottom half of the CX40 joystick case off the top case, look for the small spring that sits on the Orange/Red Fire button center stud and below the X Y PCB board, remove the fire button spring and put it in a safe place. It is VERY easy to loose this small spring if you are not careful. Also note which one of five silver contacts on the CX40 X Y PCB board in under the Fire button, this will help you reassemble the CX40 when you have replaced the Old PCB with the new one.
Before you remove the damaged or worn out old white Atari CX40 Handle out of the rubber joystick boot (top half of the CX40 assembly), note where the square locating plastic tab is located on the bottom of the joystick bottom plastic ring and it relation / orientation to the inside of the CX40 top case / Fire button. This square tab on the bottom ring of the CX40 handle should fit between the two small black studs (bosses) at the 12 o'clock position (fire button located at the 1 o'clock position). For proper operation of the Atari CX40 Joystick, there is only one way this handle fits into the Atari CX40 top case half.
Over the 20 years the Atari CX40 Joystick was made, they used basic styles of CX40 Internal X Y PCB boards (both are interchangeable). One style had wires that attached on either side (left and right) of the PCB board and the other version is like you see in the picture below, with all of the joystick wires mounting on one side only.
To properly remove the Molex slide on metal contacts (attached to each of the joystick wire ends) off the old CX40 Joystick X Y PCB board,
only grab or pull on the metal contact itself (top and bottom), do not pull on the thin wire that attaches to the Molex slide Contact, they will pull off the stamped metal contact very easily! Note how the Molex triangular shaped spring contacts, slide on to X Y Printed Circuit board with the mating flat Metal contact / surface area. It is possible (180 Degrees off) to wrongly slide the Molex slide contact back onto the new replacement CX40 X Y PCB locations without the mating metal contact making the proper electrical contact.
If you are converting (changing over) from the Atari internal CX40 X Y PCB with the left and right color coded wire mounting locations like this
Orange Brown
White Blue
Green Black
to the below pictured Atari CX40 PCB with all on one side wire mountings, here is the wire Color Code Sequence starting at the top right (3 o'clock Position) to bottom right side edge of the PCB (with the sliver X Y switch contacts facing you).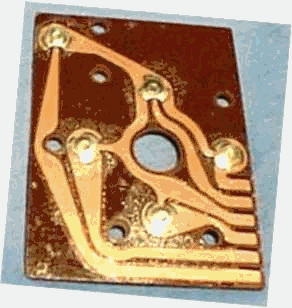 Brown

White

Black

Blue

Green

Orange

When reassembling the Rebuilt Atari CX40 Joystick, it is a good idea to twist (holding the X Y PCB board) the loose single color coded Joystick wires into a nice single tight wire bundle (an Old Atari Assembly Trick they learned early in the assembly of the CX40 Joysticks). This will lessen the chances of pinching a single loose floating wire between the top and bottom CX40 cases when you are reassembling your Rebuilt Atari CX40 joystick. A pinched joystick twisted wire bundle will Not allow you to properly close up the Atari CX40 top and bottom case set, but an untwisted / loose single joystick wire trapped between the top and bottom cases will allow you to close and damage / cut the CX40 Joystick wire when you are tightening up the 4 Phillips Screws.

Turn your rebuilt CX40 Joystick over (bottom side up) and inspect (using a flash light) each 5/8 inch deep screw hole (before you insert any screws) in the bottom case for any exposed / pinched or trapped internal joystick wires before you insert and tighten up the 4 Philips screws.

One of the Best 2600 Games to test your Freshly rebuilt Atari CX40 Joystick(s) for proper operation is Atari Missile Command.

You can easily check the 8 way X Y directions for the Joystick handle/cursor movement and fire button functions.

Update!

Lately we have seen some companies on the Internet offer Atari CX40 replacement little silver colored Dome Shaped Metal contacts (100 - 150 qty's of then cheap) that are on the CX40 PC board as a cure for fixing ailing Atari CX40 Joystick problems. This seems to be a good idea but...

About 16 - 17 years ago, Best Electronics also looked in selling these silver colored little Metal CX40 joystick PC board contacts as another method of repairing Atari CX40 Joysticks. What we found and also received much negative feed back from our Atari CX40 Customers, once you lift the clear adhesive tape (that holds down these dome contacts over the PC board contact areas) to replace the so call 5 bad dome contacts (it is usually not the dome contact that goes bad, but the copper contact on the PC board that does), the repaired Atari CX40 PC board would only last about 1/10 the normal usage compared to a new replacement CX40 PC board. What would 100% of the time happen with these replaced dome contacts, is they would start to walk around the CX40 PC board (under the clear tape) with a little CX40 Joystick use, because the reinstalled clear tape did not have enough left over adhesive to properly hold the new replacement dome contacts in there proper locations.

Over the 35+ years we have been in the Atari business, we have always found it is best to 100% replace both the Atari CX40 PC board and CX40 white Plastic inner handle in matches sets for the maximum Atari CX40 rebuild life. Anything less (like using used parts with new replacement CX40 parts, new dome contact and so on) may seem to work for a little but Atari CX40 Joystick will go bad a lot sooner.

Here is a list of the more common requested Atari CX40 OEM Joystick parts based on the last 35+ years of sales:

Atari Stock CX40 Internal PCB board CO121110 Sold Out

Best New 4th Generation Upgraded

Gold

CX40 Internal PCB CO121110G $9.95

each

(Min. 2 Qty per order)

For more Information on the Brand New Best 2005 Design (with Atari Customer Feed back comments) upgraded 4th Generation Atari CX40

lifetime

Gold

PCB click here

The New 2018 Best CX40 Super Handle CO12116-SH $12.95 (Min. Qty 2)

The 30 month story behind the making of the just released Best CX40 Super handles

Now for the 1st time in the last 2+ years the very popular Best CX40 Atari Joystick Gold rebuild kits are back in stock with the just released 4th Gen. Best CX40 Gold PCB boards and Brand New 2018 Upgraded / Improved Best CX40 Super handles. CB101211UG-4th GEN $20.95

New CX40 Joystick upgraded with Best 4th Gen. Gold Lifetime PCB board, Bests New 2018 CX40 Upgraded / Enhanced CX40 Super Handel. CX40-GSH $34.95

New

CX40 Joystick upgraded with Best 4th Gen. Gold Lifetime PCB board, Bests New 2018 Upgraded / Enhanced CX40 Super Handel and the Best 2016 Lifetime New Silicon CX40 boot

. CX40-GSHSB $39.95

Ian H. of Canada. "I recently ordered a CX40 joystick that was upgraded with the gold pcb board and silicon boot. (price was $39.95). I am very happy with this joystick! I am looking to purchase another one."

Atari CX40 Rubber Boot CO12109 $4.95 Good News We recently found a large box of new Atari CX40 boots, so the limit of 1 boot per customer has been removed for now!

The New 2016 Best CX40 Silicon Lifetime Joystick boot. CO12109-S $6.50

Atari CX40 Boot retaining Ring CO12110 $3.95 Limit 2 total

Officially sold of them about 8 months ago, we found a small bag of them.

Atari CX40 Orange/Red Fire button CO12114 Sold Out

Atari CX40 Fire button Spring CO12951 $.50

Atari CX40 6 conductor Joystick cable CA014058 Sold Out
The New Best designed 2019 Upgraded / Enhanced 7 foot Atari
CX40 replacement Joystick cable CA014058-B $12.95
Non Atari made replacement CX40 Joystick cable. This PPI made DB-9 female Joystick cable is 5 1/2 feet long compared to stock Atari Joystick cable of 4 foot. It has the same Atari color coded 6 conductor wires as the Atari OEM CX40 Joystick cable. But the 6 loose wires are shorter in length compared a stock made Atari CX40 joystick cable wires. These shorter wires are only 2 1/4 to 2 5/8 inches in length and only the black wire has the Molex slide on metal clip. The other 5 Atari color coded CX40 Joystick wires are bare and will have to be stripped down to the copper wire and soldered directly to the Atari CX40 internal stock Internal PCB board or the Best CX40 Gold PCB board trace pads (which have the Joystick connection / wire pads on the right hand side of the internal CX40PCB boards) Older Atari CX40 style PCB boards with the 3 slide on connections per left and right sides of the older style Internal CX40 PCB board will require an extension wires be soldered to the 3 Joystick conductors to stretch them to the far left side of the older internal CX40 PCB board contact pads. CB103148 $9.95 Limit of 2 per customer
Solderless / crimp female metal clips for the above non Atari replacement Joystick cable. After searching thru hundreds of different metal female metal clips, Best found one that will sub for the Molex metal spring clips used on the stock Atari Joystick cable wire ends. These new female metal clips that was originally designed to side onto a mating male metal blade type of connector, but have the right spacing to also slide onto the stock Atari made CX40 Joystick internal PCB board or the Best lifetime Gold CX40 PCB board fingers. Our recommendation is you 1st crimp (needle nose pliers) the back end of this female connector onto the striped above joystick cable wire copper ends and then as a backup also solder the wire to the female clip too. This substitute metal female clip will require about two to three times the normal force to slide it onto an Atari or Best CX40 Joystick board mating fingers, but will never fall / slide off the PCB. But once it is installed (slightly opens / spreads apart, the metal female clip) it will act (slide on with a lot less effort) like a normal Atari Joystick cable metal clip install pressure wise and should you have to remove it or reinstall it again. Set of 6 metal clips. CB103151 $.60 cents
We were recently breaking down a pallet of Atari Goods were got out of the local Sunnyvale Atari warehouses years ago. On this pallet of Atari goods, we found a box of new Atari cables. These Atari 4 foot cables are about twice (beefier) the diameter of a normal Atari Joystick cable diameter (about the same 4 foot length), hence they also have slightly larger diameter strain molded on the end of this Atari cable that goes into the CX40 bottom case. So to use these Atari made cables (originally used on another Atari made product) on a standard Atari CX40 Joystick, you will have to slightly open up (with an easy out tool or rat tail file) the strain relief hole opening on the bottom of the CX40 case to slide the Joystick cable molded on larger diameter strain relief thru / into the bottom of the CX40 strain relief hole. These cables are fully wired with all 9 conductors with the slide on Molex metal spring clips attached. But we clip off / remove the 3 non used CX40 Joystick wires because one of extra wires if installed by mistake, will glitch / reset (and possible damage) the Atari game console. The wire color coding on this Atari cable does not match up with the Atari CX40 cable wire code. Here is the cross over chart:
Atari OEM Joystick New Atari cable
color code equivalent Wire Color
Brown > Yellow
White > Brown
Black > Gray
Blue > Red
Green > Orange
Orange > Blue
Atari CX40 CB103152 Joystick cable $11.95 each Limit 5 per customer
---
Add Best Electronics All Atari Web site to your Internet Explorer Favorites folder.
Copyright © 2002 CompanyLongName
Best Electronics in the Atari business since February 1, 1984.
This page Last modified: May 04, 2021
Phone: 408-278-1070 (1:30 - 5 PM, PST, M - F)
Current Pacific Standard Time is:

E-Mail:

bestelec@bestelec.digitalspacemail8.net

Because of the big volume of Spam E-Mails we receive everyday, we had to install E-Mail Spam filters on our server. When sending an E-Mail to Best, Please put the word "Atari", Atari item or Atari part number, Atari Question or Atari Sales inquiry in the Subject line. E-Mails with the typical Spam subject matter like: Urgent, Must read, Regarding, FWD, HTML Code, Blank subject line (RE:) or other SPAM E-Mail Subject lines you receive, will be automatically deleted on our E-Mail Server and never reach us.

After sending your E-Mail to us, if you do not hear back from us within a day or less, please resend your E-Mail inquiry with a different Subject matter information or from a different E-Mail address. We do

100% respond to every Atari E-Mail we receive. But sometimes Spam Filters on your Internet Service Provider or your own personal E-Mail Spam software filter you have installed may delete or send our return Atari E-Mail to your Trash can.